Black Tenshi Cast Iron Teapot 600ml
The Exotic Teapot
Black Tenshi Cast Iron Teapot 600ml
Our popular Black Tenshi cast iron teapot boasts a traditional Japanese hobnail design. It comes beautifully packaged with a removable tea infuser to steep your loose teas. The teapot is particularly adept at keeping the tea piping hot for long periods and has an enamel glazed interior. Maximum Teapot capacity is 600ml. This teapot is perfectly sized to serve 1-2 large cups or many small cups in gong fu style.
This robust teapot can also be used as a kettle on a gas or wood burning stove to boil water. We highly recommend using a trivet stand (available separately) to protect your surfaces as the teapot can become quite hot during use.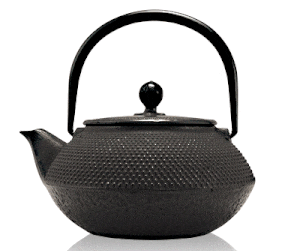 You'll earn 0 reward points with this purchase.
Be one of the first to know!
We're sorry we're out of stock but we can let you know as soon as it's available if you enter your email address below.
Reviews
Great service - great product - Paul most helpful. Would not hesitate to use this company again. Surprise present opened Christmas morning - very pleased.
Can anyone tell me if the handle is rigid, or swinging? Thanks.
Just to say what fantastic service, order placed Wednesday - delivered as requested to neighbour today. Communication by courier excellent. Thank You
Very happy with my new teapot! Well made and looks great.Decided to get one after seeing them in use in 'The Square', a nice, little cafe in Winchester.Thanks to Paul for his help too :)
Teapot is perfect. Excellent service.
I have nothing but praise for Exotic Teapot. Not only is their range of teas more comprehensive and higher quality than any other supplier I know of, but when a change of mind occurs as it did in my case after the purchase of a little cast iron kettle, then the friendliness and co-operation I met with in making a change, was exemplary. Not only that, the website is in my view very stylish and user friendly. It?s a visually pleasant and informative experience simply to browse around. I look forward to a long and happy association with the company. Keith Jameson
great looking and pouring teapot
We absolutely love our new tea pot.So easy to make beautiful tea for two with top quality tea leaves.Tea lovers will not be disappointed.
Arrived in exquisite pretty box which I will reuse. I have used it first time today and loved the experience. The fruit tea was divine. I will order more. A little peace of tranquility.
Great company, easy to use website and once you've placed your order, delivery is fast and efficient. Highly recommend.
Great service. Excellent quality good value.
Great service. Excellent quality good value
A great tea pot and great customer service from Paul
Leave a review