Prestige Glass Teapot 800ml
The Exotic Teapot
Prestige Glass Teapot 800ml
Our Prestige 800ml is a beautiful, mouth blown glass teapot designed to grace any dining table. Each teapot comes with a coil filter in the spout and a central glass infuser to carefully control the infusion of your loose leaf teas. It can easily be removed when brewing a flowering tea.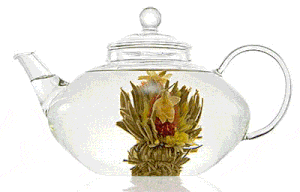 You'll earn 0 reward points with this purchase.
Be one of the first to know!
We're sorry we're out of stock but we can let you know as soon as it's available if you enter your email address below.
Reviews
Excellent service. Very quick delivery. My husband loves the fruit teas citrus zest, mango blast and berry fusion.The teapot is tardis-like. It really does fit 800ml but does not take up too much room. We are currently using it for black tea and it keeps it warm and is easy to clean. We bought some flowering teas and can't wait to try them out in this beautiful teapot.
I have found the company always helpful, knowledgeable and the products always arrive on time.
Perfect! Securely bubble wrapped and boxed twice. Thank you
Really first class service from Exotic Teapot. Will use them again.
An excellent experience using Exotic Teapot. Especially like the Next Day delivery which is very reliable. Good service all round.
Lovely teapot great shape, fantastic for loose tea
Delighted with this and so was the recipient!
Had some communication by phone and was very helpful, friendly and professional. Goods arrived VERY quickly.
Easy to order from this company, easy to use website, quick easy payment method. Only down side is the courier used. As they didn't listen to delivery instructions. Would order from the exotic teapot company again.
My order was sent to me very quickly and I really love the teapot. It is beautiful and a delight to make tea in! Many thanks.
Another lovely teapot! I recently broke my previous teapot from The Exotic Teapot after many years of use. My new teapot arrived quickly and is being put to good use!
Really lightweight but makes a lovely cup of tea. Very dainty looking. Would strongly recommend and will be coming back for further purchases now I have found the site.
I saw this online when looking for a Christmas gift for a die-hard tea drinker. Ordered with a selection of flowering teas and packed into a gift box.On arrival I found it well packaged and in a stunning gift box. I'm sure it will be well received, many thanks
Lovely products - great tea ! V happy thank you
Always great customer service. Paul is always very helpful if I've got any concerns. The teapots are lovely, the cups are also great. Tea is pretty good too, have gotten various mates into the tea blends, harmony is a favourite which everyone seems to end up getting. Great company, have been buying from them for years.
The products are very good quality and excellent customer service!
Excellent product and service, my second order with exotic teapot...A company
Our small teapot glass diffuser is cracked after 2 months of infrequent use, how much is a replacement plsase. Thanks
Everything as described, arrived quickly.Only complaint is that the strainer that comes with the pot isn't very good, the holes are so small that it doesn't work as an infuser at all - but that's fine, other infusers fit well in the teapot
Such a beautiful teapot, like a little work of art. It pours perfectly. i thought i would save it for best but i use it every day.
Great service, quick delivery, good value for money. Amazing quality of the teaware and the tea! Amazing gift idea!
The glass teapot arrived on time and very happy with it.My wife did manage to break the teapot lid on first use by not putting a finger on it before picking pot up but Paul was more than happy to provide us with a replacement lid, which we were very grateful for. Truly great customer service!
Excellent service and quality products. Highly recommended.
It is a brilliant teapot - the best one I have come across. It is a really good size making a deceptively large amount of tea. It does not need to be filled full so it suits all occasions. Stunning glasswork with a beautiful presentation box in which everything was well wrapped for postage. I would highly recommend this teapot for everyone who has any interest in tea (especially those who don't just drink standard teabags!). Will purchase some more tea from here soon too, as that is also of top quality.
First teapot I've had that pours properly. Lovely quality.
Came in good time and without damage. Helps admiring the flowering tea - would probably go next time for a taller teapot and larger as friends and family keep on drinking tea and chatting!!
Leave a review